My favorite DIY blogger Centsational Girl is having a Link Party for
Favorite Kitchen Gadgets
, favorite blogger and topic no way I could missed it.
When it come to kitchen gadgets, I am very simple and old fashion. However, I do have a few must have gadgets that does the job that I can't do or quicker than manually. Here they are:
Tiger rice cooker, I'm Vietnamese and in Vietnam we used to eat rice like 3 meals a day. But here in America I compare us eating rice like the American eating bread/pasta/potato. My mom and sisters used to cook rice with no measuring cup, no electronic rice cooker, instead they have to aim for the right amount of rice and water, cooked on charcoal or dried rice straw. In this modern day, here I'm can't imagine my life without a electronic rice cooker, in about 15 minutes I've a nice hot bowl of rice.
Magic Bullet Set, a best xmas gift from my girlfriend couple years ago; and oh how I love this thing. Just like it adversities, I used it for smoothies, and for cooking such as chopping, mincing, and chunky. I love how it comes in various cups size and mugs, so easy and convince.
After years of cooking, I just automatically know the amount of ingredients to put in a dish. But ever since I decided to put my cooking into recipes, measuring cup and spoon sets are must have.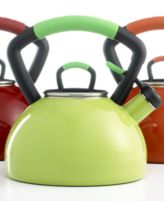 My dad gave us this
KitchenAid Tea Kettle
in white, and since I'm a tea girl I so loving it.